CLASH Newswire For The Week Of Jan. 18th, 2009
Welcome to the CLASH Wrestling Newswire for the week of January 18th!  The date is 1/21 and we are a few days removed from CLASH Wrestling LIVE in TAYLOR, MI from 1/17/09 (The fallout from Seize The Day II).  Without a doubt, questions were answered, stories developed, and a night of action packed wrestling that only CLASH can deliver indeed captivated attention!  We have many newstories to cover this week, so before we begin lets first give you a reminder…
First and foremost, CLASH WRESTLING makes its MT. CLEMENS, MICHIGAN debut this SATURDAY NIGHT, JANUARY 24 at the GIBRALTAR TRADE CENTER for the self-titled Supershow Extravaganza – THIS IS CLASH WRESTLING!  This event will feature the return of Former WWE Superstar SCOTTY 2 HOTTY, an exciting Tag Team Title LADDER match, a CLASH Championship Rematch & more!  CLASH Wrestling is orchestrating an excellent line-up for this debut event as matches continue to be signed day in and day out, you wouldn't want to miss this one…
Tickets for this CLASH Wrestling Supershow event are only $12 for General Admission Seating, and $15 for Front Row (Front Row Seating Limited, Arrive Early). If you've never experienced CLASH Wrestling, then REVOLUTIONIZE your PRO WRESTLING EXPERIENCE this SATURDAY, 1/24 as we introduce ourselves to a whole new terrain – MT. CLEMENS, MICHIGAN…THIS IS CLASH WRESTLING!
JANUARY 24, 2009
MT. CLEMENS, MI @ GIBRALTAR TRADE CENTER
THIS IS CLASH WRESTLING!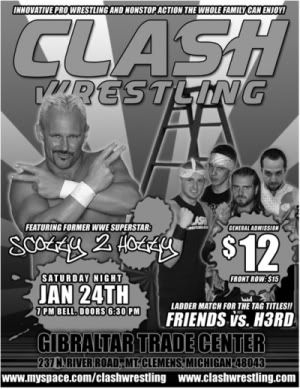 – H3RD COMES TO AN END! This past Saturday Night in TAYLOR, MI; TOMMY TYDIE & MIKE DANIELS (the remainder of the H3RD) informed the attendance that J. MILLER was the weak link of the faction, and that TYDIE had "carried" him throughout the teams' existence.  With that being said, TYDIE asked that him and DANIELS' alliance be simply referred to as "TYDIE & DANIELS" opposed to H3RD.  With that said, TYDIE & DANIELS took on CAMERON SKYY & a partner of his choosing, shockingly to be DRAGON KREED!  SKYY & KREED defeated the former H3RD members as DANIELS took to the fall to KREED! 
 However, THIS SATURDAY NIGHT, in MT. CLEMENS, MI at the GIBRALTAR TRADE CENTER – TYDIE & DANIELS have a chance to gain retribution and more than that as they challenge the FRIENDS (GQ ASSASSIN / RAVE KILLBOURN) for their Tag Team Titles in a LADDER match!!  If you've yet to see a CLASH Ladder match, many can concur that bouts such as J.MILLER vs. CAMERON SKYY & of course and unforettable Tag Team TLC in August with H3RD vs. FRIENDS, are some of the greatest LADDER matches in independent pro wrestling.  CLASH Wrestling looks to reach beyond once again to create yet another unforgettable match in front of MT. CLEMENS, MICHIGAN!! 
– WRECKINGBALL SHOWS NO REGRET FOR SIDELINING J. MILLER INDEFINITELY    In Taylor, MI; THE WRECKINGBALL made it perfectly clear he had no remorse nor regret for his actions taken against J. MILLER sidelining the former Tag Champion indefinitely with a severe case of Cerebral Edema, also known as "Brain Swelling" which is generally a result of different kinds of injury to the brain.  While MILLER's professional wrestling career now hangs in the balance with a potential career ending injury, THE WRECKINGBALL attempted this same doing against his opponent WILL VENDETTA this past SATURDAY!  As VENDETTA's cranium was wedged between the two chairs, the FRIENDS came for the save!  However, THIS SATURDAY NIGHT, in MT. CLEMENS, MI it will be a rematch between WILL VENDETTA & THE WRECKINGBALL! 
– DRAGON KREED – WORLD TITLE INTENTIONS?
This past Saturday, DRAGON KREED shockingly came out unannounced as CAMERON SKYY's partner against TYDIE & DANIELS.  However, to add a twist to things, KREED then turned on SKYY delivering him a hellacious move that was used to pin DANIELS.  CLASH LIVE concluded with KREED hovering over SKYY with the Championship in hand.  What does this mean?  While this story is sure to unfold, we know that CAMERON SKYY will have a huge title defense against Former CLASH Champion JACK NIGHT this SATURDAY NIGHT in MT. CLEMENS, MICHIGAN!  As these two have been battling for the gold since October, this match is sure to deliver in this already great card for the Gibraltar Trade Center on 1/24!
– SWAGG vs. THE WORM 
DAVE MANZO proclaimed that he would defeat the returning SCOTTY 2 HOTTY this SATURDAY NIGHT in MT. CLEMENS, MICHIGAN!  So, there you have it…with the match booked and signed for this huge self-titled event, will SCOTTY 2 HOTTY come out on top against the SWAGG STARR w/ Prince Of Swagg "B" in his corner? 
– DANNY DANGER & JOSH THOR RETURN ONCE AGAIN!
This Saturday Night in MT. CLEMENS, MICHIGAN, Pennsylvania's own DANNY DANGER & JOSH THOR will make the trip for this Supershow Extravaganza!  These "Tag Team of the Year" nominees made their CLASH debut in June 2008 with SCOTTY 2 HOTTY's first appearance with this company.  Stay tuned to CLASHWRESTLING.COM for additional updates to Mt. Clemens card as CLASH continually keeps adding and adding hot fresh match-ups for this huge event!
– THIS WEEK IN YOUR CLASH WRESTLING HISTORY:
Saturday, 1/26/08, CLASH Wrestling LIVE in Taylor, MI.  Did you know…
1.  CLASH held what was called an Ultimate Endurance Tag Match where foes tagged with foes; GQ & J.MILLER defeated TYDIE & VENDETTA.  Winning team would then face one another at February's Great Aggression Supershow for a #1 Contendership for the CLASH Championship.
2.  A contract signing was held for the CLASH Championship pitting CAMERON SKYY (c) vs. then "All American" DAVE MANZO.  Coincidentally, now "SWAGG STARR" DAVE MANZO once again will have one of his biggest matches in his career THIS SATURDAY NIGHT, JANUARY 24, 2009 against SCOTTY 2 HOTTY!
– SATURDAY, JANUARY 24TH – MT. CLEMENS, MICHIGAN…THIS IS CLASH WRESTLING!

As part of our promise to cover new ground in 2009, CLASH Wrestling will debut in MT. CLEMENS, MICHIGAN on SATURDAY, 1/24 at the GIBRALTAR TRADE CENTER!  As matches are beginning to be announced here on CLASHWRESTLING.COM, be sure to tune in THIS SATURDAY NIGHT as we deliver a great wrestling card for our arrival to this new city!
In addition, SCOTTY 2 HOTTY will be doing a special 1 HOUR AUTOGRAPH SIGNING beginning at 6PM!  Arrive early for this and to get ahead in line for a Front Row ticket to an exciting in your face LADDER match, SCOTTY 2 HOTTY's return, a CLASH Championship bout and much more!
– BEST OF CLASH WRESTLING: Volumes 1-3 AVAILABLE NOW ON DVD – HERE AT CLASHWRESTLING.COM!
It's what everyone's been asking about for the last 12 months, and as of 12/19 they have arrived.  However, they are OFFICIALLY NOW ON CLASHWRESTLING.COM (MERCHANDISE Section) FOR PURCHASE!  Reserve your copy TODAY!  Some of the most memorable bouts including the TLC Match between FRIENDS & H3RD, SKYY vs. MILLER (LADDER), SCOTTY 2 HOTTY, MDOGG20 MATT CROSS & More!  Each DVD will be sold at the CLASH Merchandise booth for $10 or buy 2 and get the third half-off (3 for $25)!
Thanks for reading this week's edition of our Newswire; don't forget to join us SATURDAY, JANUARY 24TH, 7PM Belltime for the ULTIMATE PRO WRESTLING EXPERIENCE in a gigantic new terrain that is sure not to disappoint!  Admission to this event is ONLY $12 for General Seating, $15 Front Row! Join us Saturday Night, 1/24 and allow this company to reintroduce ourselves…THIS IS CLASH WRESTLING!